Crepes are a great weekend breakfast standby in our house as we always have the core ingredients on hand. This version has been dressed up a little with fruit and a passion fruit glaze, however they can be enjoyed with everything from fresh berries and whipped cream to Nutella. For the purists out there just drizzle with a little maple syrup.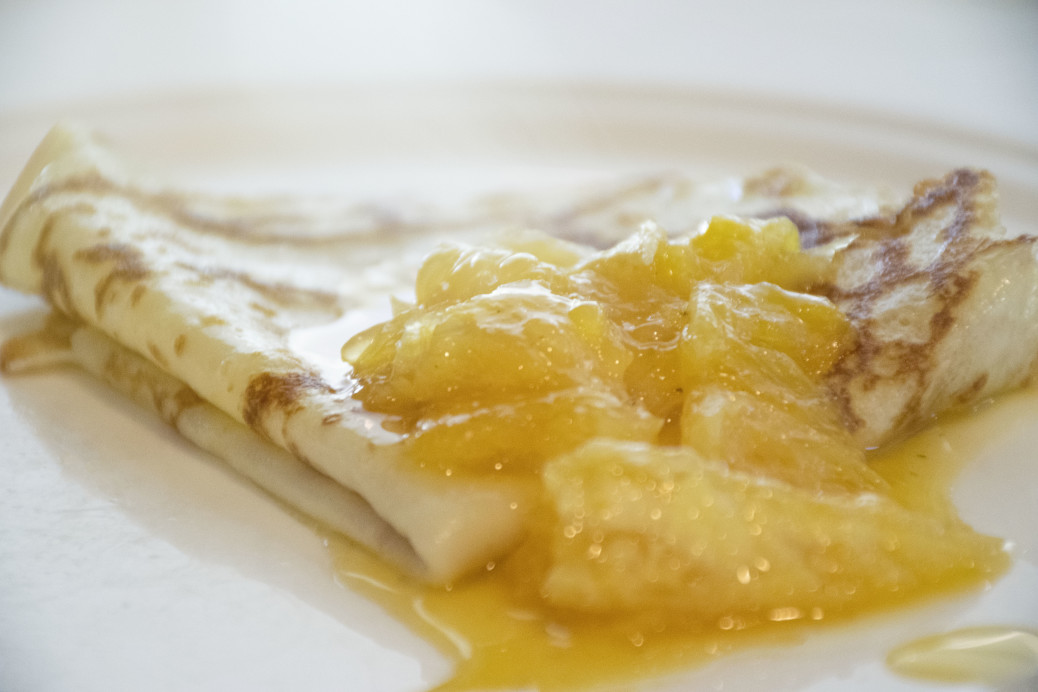 crepes with passion fruit glazed fruit
2016-06-20 20:15:45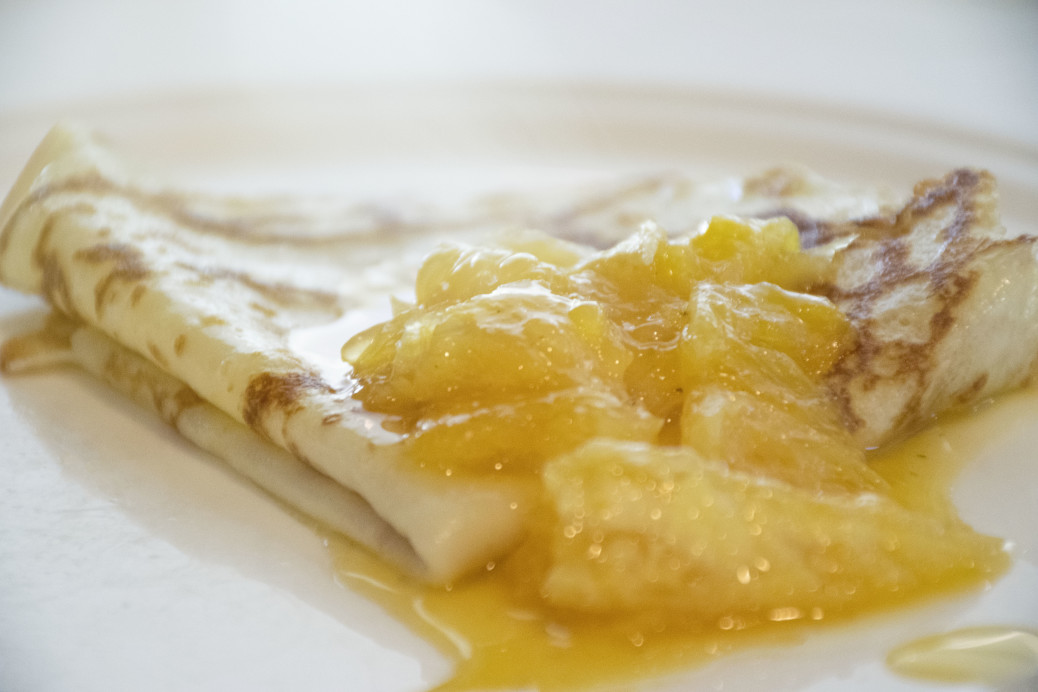 Crepes
1 cup of unbleached all-purpose flour (after all who needs bleach?)
2 eggs
1 1/4 cup of milk
2 tbs of butter
pinch of sugar
Passion fruit sauce
3 large/heavy passion fruit to make 3 tablespoons of juice after sieving
5 tablespoons sugar
Crepes
Add the flour and sugar to a mixing bowl, then add the eggs and a little milk and start mixing at a low speed. If using a KitchenAid use your paddle mixer. When the batter is smooth add some more milk. Keep adding the milk in stages until all the milk is incorporated.
Melt 1 tbsp of the butter in a cup in the microwave. Swirl it in your cup a little to cool the butter a little. Turn your mixer back on, on a low setting and slowly drizzle the butter into the mixture. Set aside the batter for 15 minutes to half an hour.
After your batter has rested, melt the remaining tablespoon of butter in a cup in your microwave. Heat a frying pan to a medium heat. When your frying pan is hot, brush some of the melted butter on the pan with a silicone brush.
Pour half a ladle full of batter into your pan. Tilt your frying pan to spread the batter uniformly over the cooking surface. After a minute or 2 you will see the edge of the crepe brown a little, when this happens flip over the crepe with a spatula. Let the crepe brown a little more and then remove it from the pan.
Brush the frying pan with a little more butter and add the same amount of batter for your next crepe.
You can serve the crepes as you cook them or keep them warm in a low oven until they are all ready. Don't worry if you first crepe sticks to your pan or if it looks bad, the first crepe of a batch is usually not worth serving.
Passion fruit sauce
Sieve juice from seeds of 3 passion fruit. Place juice and sugar in pan and simmer for around one minute until slightly thickened. Juice will thicken as it cools. Add desired amount of fruit - oranges, strawberries and bananas work well. If oranges are juicy simmer again to reduce slightly.
RealFoodRealIngredients.com http://www.realfoodrealingredients.com/